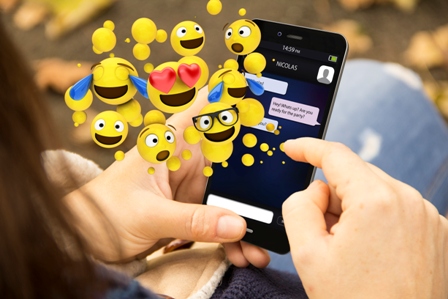 The overall well-being of our youth is a always concern. How are they coping with all the pressures of school, with peer relationships, with what they see and experience online, and with the often overwhelming amount of information – and misinformation – they see and consume on a daily basis. 
As adults, we often have concerns about the impact of gaming, screen time, online comments, and tech stress on the overall well-being of our youth. Are they spending too much time on their phone? Are they being cyberbullied? Are they finding balance in life? Are they on information overload?
What is digital well-being?
Our overall well-being is determined various factors, including our daily experiences. These experiences have an impact on our emotional and mental well-being, as well as our physical well-being. With technology now a huge part of our daily lives, it, too, has an impact on our overall well-being, no matter our age. This is referred to as digital well-being. Digital well-being, simply put, is maintaining a healthy balance between digital life and health, and known as online wellness.
Being aware of how our online activity, as well as our technology use, affects our overall health and well-being is important. What we experience online can affect our mental health, our emotional health, and even our physical well-being. The choices we make online, how we use technology, the time we spend online, the information we consume, the comments we read and receive, and the interactions we have with others all impact on our digital well-being and health.
Digital well-being tips for families
Create screen-free times and zones. This helps all family members take time away from technology by limiting screen time at meal time, in bedrooms, and, for youth, while studying. 
Establish clear family rules, together. Discuss what kind of media and technology is OK, and when it is OK to use it. [Our online safety and technology use agreement can help start the conversation].
Try parental controls. You can set content limits that make sense for your family, including, if agreed upon, setting limits on apps that your kids use so that their personal information remains private. 
Practice good online practices. Have open conversations about online safety and what it looks like to be responsible online. 
Watch and play together. Sit down with your kids and enjoy age-appropriate programming and media, and join your kids in viewing what they are watching or for a round of their favourite online game.
Tips courtesy Common Sense Media
Keep the conversation going
Striking a balance is important, which is why having regular conversations with youth about their online wellness and digital well-being are important. As adults, our experiences are not always positive online, and the same is true for youth. 
Talking with youth and offering them support can help. Discussing with them what they see online, how they use technology, the games they are playing, as well as their perceptions of themselves and others, can help youth be more aware of their digital health. Setting a good example of mindful digital well-being is important, and will help youth model good online behaviour and good online practices. Being mindful of our own screen time and device use can help empower youth to be proactive in managing their digital well-being. 
If you are concerned about your kid's well-being, there is help available on Prince Edward Island, online, and through a number of help lines. 
Recommended resources on Digital Well-Being