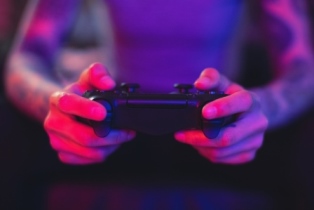 Epic bouts of Fortnite, Roblox, Minecraft, Call of Duty, Apex Legends, Grand Theft Auto, and other popular video and online games are commonplace in many homes. You may not be familiar with some of these games, but they are widely popular and may even be played by your kid. 
Interactive, fun, and educational
Gaming is a popular pastime. Today's games are meant to draw you in with their vibrant colours, graphics, and compelling story lines, some of which include graphic depictions of violence and may not be age-appropriate for your child. Gaming is interactive, particularly online gaming, which can be played in real time with friends, as well as other gamers who your child may not know in real life. Many games are fun, informative, and educational and can be an important way your child socializes with others. Some games involve group or team play, while others are for individual play. Livestreaming of video game play is also widely popular, with YouTube channels dedicated to gamers playing their favourite game and giving those watching tips and advice.
With headsets on, complete with microphone, kids can chat to one another, give instructions on moves within some of these games, and interact. Gaming can be educational, teaching life skills, art, math, spelling, as well as home and fashion design. Countless games are meant simply fun to play and provide an escape. Gaming can improve co-ordination, sharpen problem-solving skills, improve concentration and attention, enhance memory, and even improve social skills. Gaming, too, can include racial stereotyping, gender stereotyping, be overtly sexual in nature, and become addictive.
Gaming addiction
The World Health Organization (WHO) has added "gaming" under the section dealing with 'disorders due to addictive behaviours, the section that also includes drugs, alcohol, and gambling. In order for gaming disorder to be diagnosed the pattern of behaviour must be of "severe detriment" to other areas of life, such as personal well-being, family, social, education, occupation, with the behaviour evident for at least 12 months. 
Online conversations and interactions
Gaming is often more fun when played with others. Sometimes, though, youth may not know the people they are interacting with online. They could be playing Fortnite with dozens or more people, most of whom are strangers. While youth may think they are playing, conversing, and interacting with other kids online, that may not always be the case. It is hard to know if someone is who they say they are online unless they know that person in real life. That's why it is important for caregivers to understand how  youth are playing and to talk with them about protecting their identity online. 
Here are some steps you can take to manage gaming interactions:
Set up online interactions settings under parental controls on the gaming console.
Keep the gaming console in an area where you can view those interactions. 
Ask your child who is gaming using a headset when gaming to occasionally put the sound on speakers so you can hear the interactions. 
If you have children of different ages in the home, set up separate accounts so you can manage interactions of younger children. 
Use your youth's account to play so you can see who they are interacting with. 
Use the gaming console's settings to set up groups for your youth with known friends and mute other players. 
Remind them to be respectful to others while gaming, to follow good online practices, and, if they run into a problem, that they can come to you or another trusted adult with their questions or concerns. 
Making gaming safe and fun
It is important to talk to with your kid about the positive aspects of gaming, as well as the negative. Together, you can set rules that stick so gaming continues to be a fun and positive experience in your home. Here are some tips that will help:
Take an interest. Ask questions about the games your kid is playing, what they like about those games, and learn more about how the games work. 
Ask who they are playing with. Talk with them about who they are playing with and who they are talking to while gaming, and encourage them to interact only with people they know. Make sure they know how to report any abusive behaviour. 
Set boundaries. Together, talk about appropriate how long they are allowed to play for, who they can play with, and how long they can play. Set limits on when they can game, for example, meal-time is a no-screen zone. 
Teach kids to protect themselves online. Empower kids to use critical thinking while gaming, including not sharing identifying personal information and not adding anyone they don't know in real life on other social media. Encourage them to use an avatar rather than a photo of themselves in their gaming profiles, and not to use their real name.
Check out game and app ratings. Find out the rating of the games your kid is playing or wants to play to make sure they are age appropriate. Some games contain violence, sexuality, crude language, and other features that may not be appropriate for your kid. Talk to your kid about why a game may not be appropriate. 
Learn by asking and even playing
Understanding the appeal of gaming begins with talking with your kids and even joining them for a game or two. Empowering your kids to be mindful of their online play, to know their limits, and to find a balance between gaming and other activities will help make for a better gaming experience better. By opening up the lines of communication in a safe and positive way, it will be easier for your kid to come to you when, and if, a problem arises.  
Recommended resources on Gaming 101